An explanation of how to configure the coach role workflow on the Mindset platform
The coach role provides an additional role capability on Mindset. Individuals who
are assigned coach roles can be assigned specific users and can track the Goals of their coachees. The Coach role can be assigned to any app user at the app level, and any account user at the account level.
Setting up the Roles Workflow
To turn on the Coach role, the Roles workflow must first be turned on. Go to App Settings on the left side of the administrator portal and select the Workflows tab. Scroll down to the Roles workflow and turn the toggle on, and click on save at the top right corner of the screen.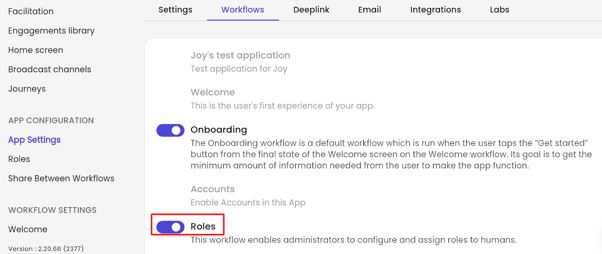 Once you have turned the toggle on, you can configure roles by selecting the settings icon on the top right corner of the Coach card.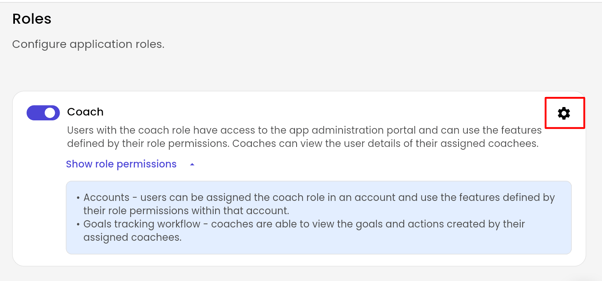 In the next screen, you can configure the general settings for the Coach role. You can see the role permissions and choose to Enable Role or Enable role for Accounts or both based on if you want to assign the role to an app user at the app level, or any account user at the account level.

You can then customise the name of the coach role for users.
The next tab is the Coachee Interface. You can configure the workflow card displayed on the coachee's profile from here.

Once you have added this information, the next step is to view and assign roles to the end-users. Go to Roles under the Manage section of the left hand menu. Here you can see the Roles and number of users who are assigned with each role.

Clicking on the arrow icon next to the card will take you to a screen where you can see all the users assigned to the coach role and their coachees.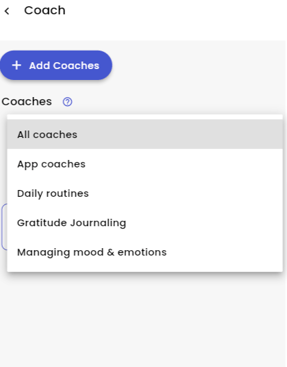 How To Add Coaches
You can click on the +Add Coaches button on the Coach to add users to this role. You can add their email addresses on the Add the Coaches screen. The users have to be registered with your applications to be assigned a role.

The users will receive an email on their role assignment.

Coach and Coachees Details
This section also shows you the details of existing users who are assigned the Coach role. You can see the details like Coach role levels. Other roles and about them.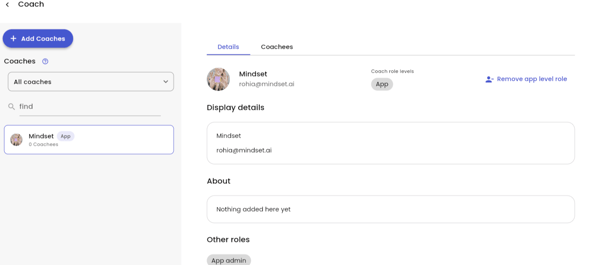 You can see three elements in the Coachees tab:
Current Coachees - The list of users who are current coachees for the coach
Former Coachees - The list of users that were formerly the coachees for the coach
Assign Coachees button - To assign new coachees to the coach